Is your site invisible on the search engines? We can help get you the good search engine placement results you deserve.

The custom software packages we use to program, submit, verify, and monitor positions on the various search engines are the finest available today. By partially automating an otherwise tedious and time consuming task, the software allows our dedicated search engine server to perform a majority of the repetitive tasks, thereby reducing the cost to our customers.

Using a high-speed Internet connection, this server can continually monitor subscribing clients positions on the most popular search engines. We can also generate reports detailing your current and historical positions.

But hardware and software is just small part of the equation for a successful search engine optimization campaign.

At Web-Erectors.Com we combine those resources with our 18+ years of search engine optimization experience to provide satisfying results for each search engine optimization campaign, be it PPC or Organic.

Ranking high in the search engines is an important part of an overall Internet marketing campaign.

Let Web-Erectors.Com help raise your site to the top of the search engine rankings.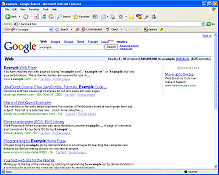 Contact us today to discuss your search engine needs.